Shaun Toroa Te Rire McNeil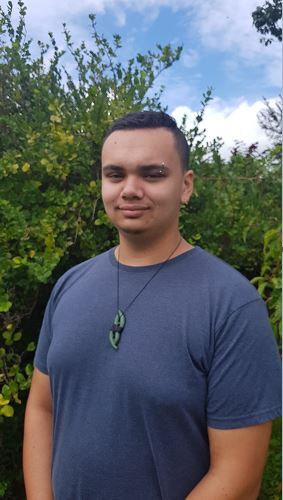 We are pleased and proud to feature this story on Shaun Toroa Te Rire McNeil, one of our beneficiary's and a 2017 Ngati Tuwharetoa (BOP) Settlement Trust Tertiary Grant Recipient. He is also a winner of Te Paewai o te Rangi Scholarship for Academic Excellence awarded by the University of Waikato.
Shaun is currently studying towards his Bachelor of Science degree with a double major in Chemistry and Cellular and Molecular Biology (Biochemistry) at Waikato University. He completed his first year of Study in 2017 with an amazing "A" average!!!! He says "I pushed myself the hardest I ever have to achieve at university this year, with my grades for the year now being final I am proud to see the results of this work." For his grades Shaun received a certificate of recognition within his Hall of Residence, and acknowledgement from the Science and Engineering faculty for Māori achievement.
Whilst he really enjoys studying chemistry, Shaun also enjoys Biochemistry which is the study of living things on a very small scale. He chose this course of study as he aspires to work in the medical research field in the future. He is particularly interested in finding treatments for Alzheimers and Cancer. "I want to do something that will make a positive impact on people. Alzheimers and Cancer are two specific things I would like to work on. I have seen the effects of these two specific illnesses growing up and would like to do whatever I can do to make things better for other people." Shaun is also interested in honey research and someday would like to work in Antarctica.
Shaun has thoroughly enjoyed his first year of study and found the transition from College to University a big step up, but has found the learning process better. He says the course content has been "captivating" and "it had my interest to the point of when I was walking around I would be trying to figure out how the plant biology we had just learned applied to the grass under my feet."
However, it hasn't all just been about study for Shaun. He has worked on a voluntary basis for the Waikato DHB preparing a proposal for a pilot program inducing AAA screening (Abdominal Aortic Aneurysm) targeted toward Māori men 65+. He has also worked on developing his leadership skills by taking on leadership roles on campus.
Shaun says "I would like to encourage other young Maori who are considering entering the field of science to go hard. We are severely statistically under-represented in the field of science. There aren't many of us around. It is absolutely do-able…. the study itself is fun and rewarding." In addition to this Shaun says "I made some new friends, I gained some independence. It was probably the most productive year of my life so far."
Shaun is definitely an inspiration and a great role model for anyone interested in a science career or in Tertiary study in general. He is another fantastic example of what can be achieved with hard work, determination and commitment. Well done Shaun, we wish you well in all your endeavours!!!